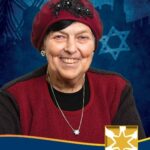 New Developments in Israel's oldest volunteer organization
A recent article in The Jerusalem Report on October 11, 2021 recounts the story of how Yad Sarah began, directly from the founder, Uri Lupolianski. The author, Leah Abamowitz, is not only a writer but is, herself, dedicated to geriatric care. Leah details how the organization expanded and evolved to meet the needs of the population. Both Yad Sarah and Melabev have crossed paths over the past 40+ years in the caring for Israelis. Both Uri Lupolianski and Leah Abramowitz have a passion for Israel, for the people of Israel and for improving the quality of lifefor Israelis. Follow our link to the article on Yad Sarah's Outreach to learn how very special the organization is.
Leah Abromowitz is the co-founder of Melabev, an organization for dementia patients in Israel, which has ten centres in Jerusalem, including in Yad Sarah House and more in surrounding areas. She opened Melabev in 1980 with geriatrics Professor Arnold Rosin to offer day services to Alzheimer's patients who needed special care. Abromowitz started the Institute for the Study of Aging at Shaare Zedek Medical Center as well, which offers courses, seminars and workshops for training professionals. In 2008 she received Jerusalem's highest civilian honour, the Yekirat Yerushalayim award. In 2019 she was awarded the Sylan Adams Nefesh B'Nefesh Bonei Zion Prize.