Yad Sarah's Work in Canada
Helping Disabled Travel in Israel
Yad Sarah helps those physically-challenged to travel in Israel.
Contact Our Office
Canadian Friends of Yad Sarah can assist those with mobility or health issues travel in Israel. Call for more information.
The mission of Canadian Friends of Yad Sarah is to promote awareness of the organization throughout Canada and the vital work it does on behalf of the disabled.
Canadian Friends of Yad Sarah is a registered charity with Canada Revenue Agency.
We fundraise to maintain the many services and high-tech equipment in the Israeli network of Yad Sarah.
We support the ideals of Yad Sarah.
MAKING TRIP TO ISRAEL ACCESSIBLE! Yad Sarah can help!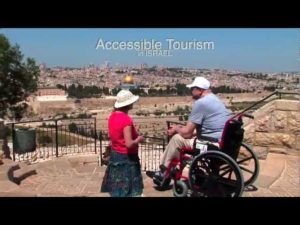 Helping Those with Disabilities Tour Israel
Yad Sarah assists people wanting to travel to Israel by loaning mobility devices and other required medical equipment while in Israel. Yad Sarah has modified vehicles to accommodate those with special needs, getting the disabled to and from Ben Gurion airport, as well as travel within the country.
There are currently¹ 106 branches of Yad Sarah within Israel, supporting all Israelis and its tourists irrespective of religion. Yad Sarah is there to lend a hand, remove obstacles you may have thought would make this trip impossible and does it wholeheartedly. 
For tourists who experience a medical event while in Israel, where medical devices are required temporarily, know that Yad Sarah is there for you, too!
Consider touring Yad Sarah's headquarters while in Jerusalem where there are guided tours of this amazing facility. Advanced notice is required to arrange your inclusion in a tour;  similarly, prior notice is required to arrange for medical devices or transportation for your trip.
CANADIAN FRIENDS OF YAD SARAH can work with your travel agent to ensure arrangements are made and available when required; we can also advise the travel agent as to which tourist sites are more accessible for the disabled than others.
Get in touch with our office for details and to help you make plans.
¹ Spring 2018.