How Your Donations Help Israelis During the Coronavirus Pandemic
At Yad Sarah, we understand that the need for oxygen at this time is of great importance, and the demand is high. We are doing everything in our power, with the help of dedicated volunteers, to provide equipment to everyone who needs it –quickly and safely. Read a couple of stories about how Yad Sarah has made a real difference in peoples' lives.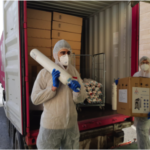 D., aged 80+ was in lockdown in Jerusalem due to a high risk of becoming ill with Coronavirus. She regularly uses an oxygen device but it was empty. She had contacted her family members and neighbours in order to replace/refill it at her local Yad Sarah branch. According to D, anyone she contacted they were unable to help out of fear of either becoming infected or of infecting her.
Eventually, D. turned to Rafael Gabai from Yad Sarah's Home Hospital service and within 2 hours (!) he made sure to bring her a new device.
Rafael made sure that a volunteer team – properly protected – made the delivery, placing the equipment at her door.   He then called to let her know that the equipment had arrived. During their phone call, D. expressed her heartfelt gratitude and excitement that the equipment had arrived so quickly.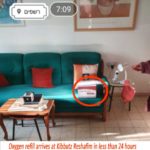 An 83-year-old woman from Kibbutz Reshafim who is in isolation, approached Yad Sarah with a request to bring her a portable oxygen generator. The Home Hospital team brought her the device in approximately 24 hours from the time of her call, at 7:04 AM.
From Pilot to Volunteer
Serving Israel with a Whole Heart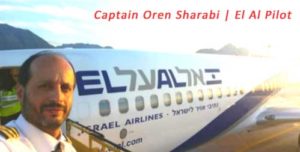 Captain Oren Sharabi works as a pilot for El Al Airlines . Ordinarily, he flies thousands of passengers to different destinations around the world. Since the beginning of the Coronavirus crisis, El Al has had to cancel almost all of its commercial flights. The staff, including the pilots were all laid off.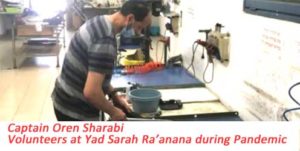 Captain Sharabi, together with his wife and children, chose to spend their spare time volunteering in Yad Sarah at the Ra'anana Service Centre, loaning medical equipment and repairing broken wheelchairs in the maintenance workshop.
His story was published in "Yediot Aharonot" and "Yisrael Ha-Yom" – Israel's leading newspapers and featured in channel 13 broadcast. This publicity encouraged another El Al pilot to join the ranks of the volunteers in the Herzliya branch and an additional 96 volunteers in the month of July.
We salute you Captain Oren Sharabi!