Accessible Travel in Israel is a Reality!
Is Israel on your bucket list of things to do? Do you have someone in your travel plans who requires accessible travel arrangements? Canadian Friends of Yad Sarah, in conjunction with the Yad Sarah Tourist Desk in Israel, can work to build a travel plan with your travel specialist designed for you. If there is someone with a disability in your party, we can work with your travel agent to ensure there are devices and services available to you while in Israel.
Don't let the disability stop you from travelling to Israel. Call Canadian Friends of Yad Sarah for further information.
Yad Sarah Attends Tourism Conference
Yad Sarah participated in the largest annual professional tourism fair of its kind in the eastern Mediterranean, held at the Tel Aviv Exhibition Grounds, and, like other international tourist fairs, it serves to promote incoming, outgoing, and domestic tourism, as well as to strengthen cooperation between tourist entities in Israel and around the world. Anyone who has a connection to the world of tourism participates in the exhibition.
Yad Sarah took the opportunity to set up a booth and tell thousands of visitors about the services and activities intended for both Israeli tourists and visitors from abroad.
Yad Sarah's tourist service, under the directorship of Nadia Allalu, enables disabled people to visit Israel, offering special tourist services from the moment they land in Israel and throughout their stay. Yad Sarah has a wide variety of medical equipment – wheelchairs, walkers, hospital beds, canes, etc – available for borrowing and will outfit a hotel room or apartment with any accessories needed.
Yad Sarah also operates a fleet of vans especially suited to transport people in wheelchairs and those that accompany them, and will pick up tourists at the airport and arrange for guided tours suited to those with physical limitations.
In addition, Yad Sarah is offering a course on guiding trips for people with special needs. The course, in cooperation with the Ministry of Tourism, includes five sessions, and will provide guides with tools and information to help them guide trips for people with special needs.
The public relations department prepared special publications and information sheets for the exhibition and a PR team was on hand to answer questions: Rachel Dover, from the International Desk; Ahuva Zaken, course coordinator for tour guides; Malka Melamed and Zelina Ben Gershon from the Tourist Service.
In the photo: (from right to left) Rachel Dover from the International Desk; Amir Halevy, Director General of the Ministry of Tourism and Ahuva Zaken, coordinator of the course for tour guides.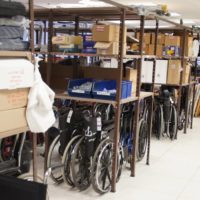 Borrow medical/rehab equipment (from any Yad Sarah branch nationwide).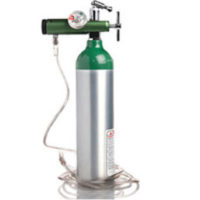 Borrow oxygen cylinders/concentrators.
Transportation to and from the airport (Jerusalem, Tel Aviv, Haifa).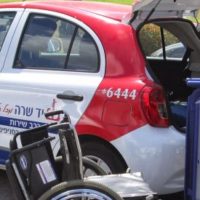 Inter-city and inner-city transportation – for sightseeing or other purposes.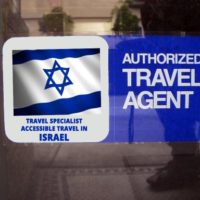 We work with local travel specialists to advise, coordinate and arrange for special requirements for those travellers to Israel who are disabled.

What Tourists Tell Us
Traveling to Israel with MS
Yad Sarah for Tourists provides personalized services enabling those with special needs to fulfill their dream of travelling to Israel. All are eligible regardless of the ability to pay. It is the goal of Yad Sarah to provide inclusive, enjoyable and relaxing trips to Israel, despite any special needs.
Judith Arnall often travels to Israel from L.A., despite the fact that she suffers from Multiple Sclerosis. She visits Israel to visit her sister and to visit her late husband's grave. The trip is a long one for anybody coming from North America but for someone with MS, it is very arduous. Judith knows that when she arrives in Israel, she will be warmly welcomed by the staff of Yad Sarah; when she visits the Yad Sarah House in Jerusalem, she will be greeted with open arms!
"There's a graciousness and warmth in all they do," she says. "You feel that they truly want to help and nurture you.
"One of the most useful things that makes it possible for me to travel there is a special-sized wheelchair. It fits through the narrow doors of Israeli apartments," says Judith. "Yad Sarah makes things easy and safe. I know that whatever temporary assistive devices I need, they are there for me.
"When I went to Israel the first time after my husband's tombstone had been placed," she said, "Yad Sarah's accessible vans got me all the way up the mountain where he's buried. They were so kind and patient. Imagine if the whole world functioned with the beauty that infuses Yad Sarah's every act."
Tourists to Israel can depend on Yad Sarah to ensure accessible travel, leaving the visiting to you!
Alan Kreisler Recounts His Family's Experience with Yad Sarah
"My family learned about Yad Sarah more than 20 years ago, when my parents took us to Israel as kids," said Alan Kreisler. "My sister broke her leg at the Kotel and Yad Sarah lent us a wheelchair and crutches. I could tell they were a special organization, but little did I know that years later I'd rely on them even more!"
Alan's mother, a lively 84-year-old bubbe, is the one who now uses Yad Sarah's assistance when she travels. Weeks before a trip, Alan emails and orders all the equipment she will need – wheelchair, shower bench, walker and a special electric recliner his mom must use instead of a bed.
The family visits Alan's nieces, one of whom is married and has three children. For his mom, it is well worth the schlep (struggle).
"But without Yad Sarah, there would be no trip," emphasizes Alan.
"I wouldn't travel outside the U.S. without Yad Sarah," concludes Alan. "They are family. Their compassion is incredible. I tell all my friends, do not hesitate to travel to Israel with someone who has a disability!"