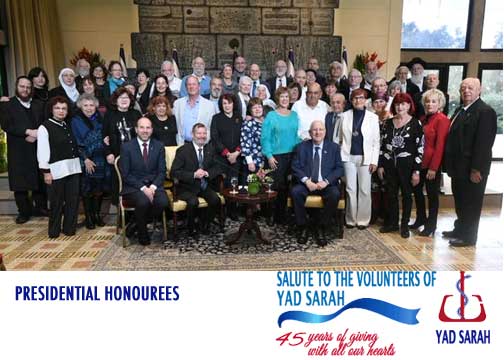 We Salute Our Volunteers
Yad Sarah is marking its 45th year of giving with a tribute to its volunteers. The celebration kicked off in the sukkah of the Ashkenazi Chief Rabbi of Israel, Rabbi David Lau, and continues with many exciting events including acknowledgements from, among others, Speaker of the Knesset Yuli Edelstein, Mayor of Jerusalem Moshe Leon, and President Reuven Rivlin.
On 5 January 2020, President Rivlin honoured 45 veteran volunteers at his official residence in Jerusalem.
One of the highlights of the event was a speech by the director of the Isafiya/Daliyat-al-Karmel branch of Yad Sarah, Samira Abu-Rukun, whose son, Brig.-Gen. Alaa Abu-Rukun, just happens to be the military aide to President Rivlin.