Thousands of Holocaust Survivors are Experiencing Difficulties Resuming their Daily Routine
Over a year has passed since the outbreak of COVID-19, and at Yad Sarah, we are helping Holocaust survivors return to the normal activities they engaged in prior to the pandemic.
Holocaust survivor, Alexander Brenner, 95, was independent until a year ago. After a year of being shut in because of Covid-19, he is no longer able to walk without assistance. Last week, with the help of an electric scooter provided by Yad Sarah, his mobility has been restored.
"Until Covid-19, Abba was independent and got around independently under his own power," explains his son, Effie Brenner. "Since the onset of Corona and to protect his life and health, Abba has remained at home, and as a result of the extended period of being at home, he lost his ability to take more than a few steps."
According to his son, after Alexander was vaccinated, he attempted to walk outside his home. However, due to his discomfort using a cane, his mobility was impaired.
Moti Lobel, a close friend of Alexander's and a Yad Sarah volunteer for many years, suggested Alexander use a motorized scooter from Yad Sarah. With its help, Alexander would be able to get around on his own outside of his home.
Alexander and his son visited Yad Sarah in Ra'anana, received guidance from branch manager, Moshe Teichler, and after he mastered and felt comfortable with the scooter, he borrowed it and took it home.
"Even though Abba doesn't have a driver's license, he quickly learned to master the motorized scooter and enjoyed riding on it freely," says his son. "In addition, in the showroom, they showed Abba other accessibility devices that will enable him to live more comfortably and securely, such as a grab bar for the shower to prevent slipping."
It is especially significant that we focus on the welfare of Holocaust survivors.
✘  All are elderly, therefore more at risk for diseases like Covid-19.
✘  They suffer a special kind of isolation and loneliness reminiscent of the concentration camps, where illness and death were all around them.
✘  Many Holocaust survivors live below the poverty line; they do not have access to good nutrition and medical care without assistance.
The volunteers at Yad Sarah provide the comfort and reassurance survivors require that their needs will be met.
✔︎  They have regular contact with volunteers who call them.
✔︎  They have the emergency alert system in their home to connect with the Centre for Loneliness Relief or the Emergency Alert Response System where operators can connect them with services they require.
✔︎  Medical devices or equipment they may have gone into the branches for in the past, are arranged for delivery to their door in a contactless manner.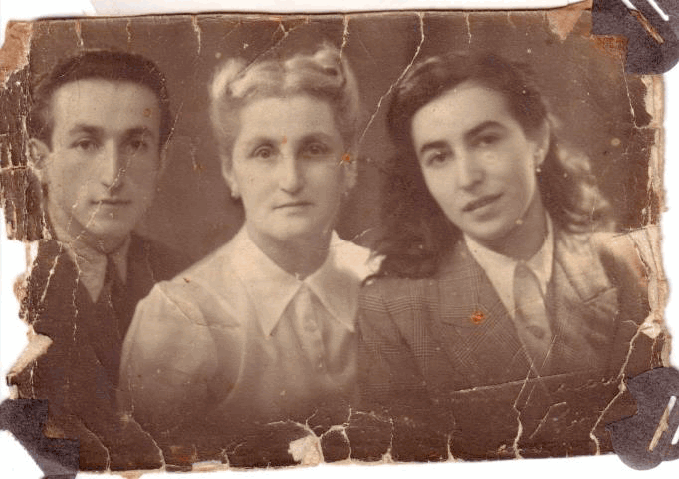 About Alexander Brenner
Alexander Brenner was born in 1929 in Khust, Czechoslovakia, (now part of Ukraine). He was a teenager during the Holocaust.
He was detained in the Khust ghetto.
From there, he and his family were taken to Auschwitz-Birkenau. Alexander was separated from his brother, Eliyahu, who was killed in the crematorium, z"l.
Next, Alexander was sent to a concentration camp in Warsaw and as the Russians approached, was transported to the camp at Dachau. He was separated from his father, Ya'akov, who perished there, z"l.
From Dachau, he was shipped to the camp at Mildorf and finally was put on a train that was bombed. He was later freed by the Allies. Alexander, together with his sister Miriam, managed to get to a cousin's home in France.
In 1949, he made Aliyah to Israel where he established his family. This is where his three children were born followed by 7 grandchildren.
"For many years, Abba did not share his experiences during the Holocaust. We were able to see the effects of the trauma he experienced especially around Holocaust Remembrance Day, when he would suffer severe migraine attacks that would last several days. In recent years Abba opened up, initially with his grandchildren who went on heritage tours and subsequently in a movie and a book that were published about his personal story by Yad Vashem. Since Abba started to share the horrors that he experienced, it has been easier for him and his post-trauma attacks have passed."
The Director of the Holocaust Survivors Department, Edna Hischrik, explains that the organization's volunteers have encountered many Holocaust survivors who have functionally deteriorated because of the Coronavirus lockdowns.
"In many cases, we are talking about people who were independent, and now, even after they have been vaccinated against Covid-19, they became dependent and are having difficulty leaving their homes. We are making every effort to offer them assistance to help them maintain mobility, especially to enable them to feel secure at home."
The special service centre that assists Holocaust survivors, contacts them and eases their isolation, clarifies their medical needs, and offers solutions. Many survivors are connected to our emergency call centre with an emergency button and fall sensor device. Depending on their needs, they receive home medical services including dental care."
In addition, Yad Sarah enables Holocaust survivors to document their life stories with the assistance of volunteers who help them collect their memories and create a personal book of their life stories.
Rabbi Uri Lupolianski adds, "Unfortunately, in the last year, 6,000 Holocaust survivors have been infected with Covid-19, and about 1,000 of them passed away. Many also continue to suffer post Corona symptoms. Our obligation is to assist these survivors in living the rest of their lives with respect and in the best manner possible. Many of the Holocaust survivors that we service are not interested in old age homes or assisted living facilities. It is important to them to remain in their homes in their natural environment. We, at Yad Sarah, are charged with helping these elderly people receive comprehensive solutions in their home including complete home hospitalization services when necessary."