Hagit Yaso Gives Back
Customers who come to the Yad Sarah branch in Sderot are surprised to see Hagit Yaso sitting in front of one of the computers. (pictured) Hagit is well known as the winner of the "Kochav Nolad" (A Star is Born) program six years ago and received lots of publicity following the win.
In Hagit Yaso's music, she combines Hebrew, Amharic, English and Moroccan languages and styles. 
These days, Hagit is working on her first album and released the first single "Everything Reminds", in which she sings with her father.
Earlier Years
When she was younger, Hagit Yaso received a scholarship from Sderot for volunteer hours, which she fulfilled at Yad Sarah. Hagit says she learned the value of giving charity from her parents, who taught her the importance of finding the time to give to others.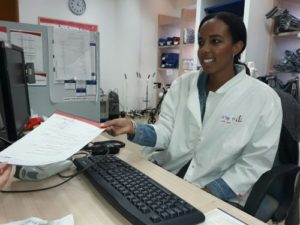 During her work at Yad Sarah, she fell in love with the experience of giving and enjoyed helping people who turned to the lending centre when they needed assistance. She decided to remain at Yad Sarah and continue her volunteer work even after she finished her original obligation to the scholarship. The team she met there is so full of love for all of their clients and for each other. They take responsibility for each other and work together as a cohesive unit, filling in for each other if the need arises. Most of the volunteers are older people, but there is another girl younger than Hagit. Hagit volunteers twice a week and loves meeting all of the different people who come through the door.
"It is important to take concrete action to help others, and this is the kind of help that is given by Yad Sarah; good deeds are just as important as giving money, and that is why you should volunteer at Yad Sarah in addition to giving charity," she says.