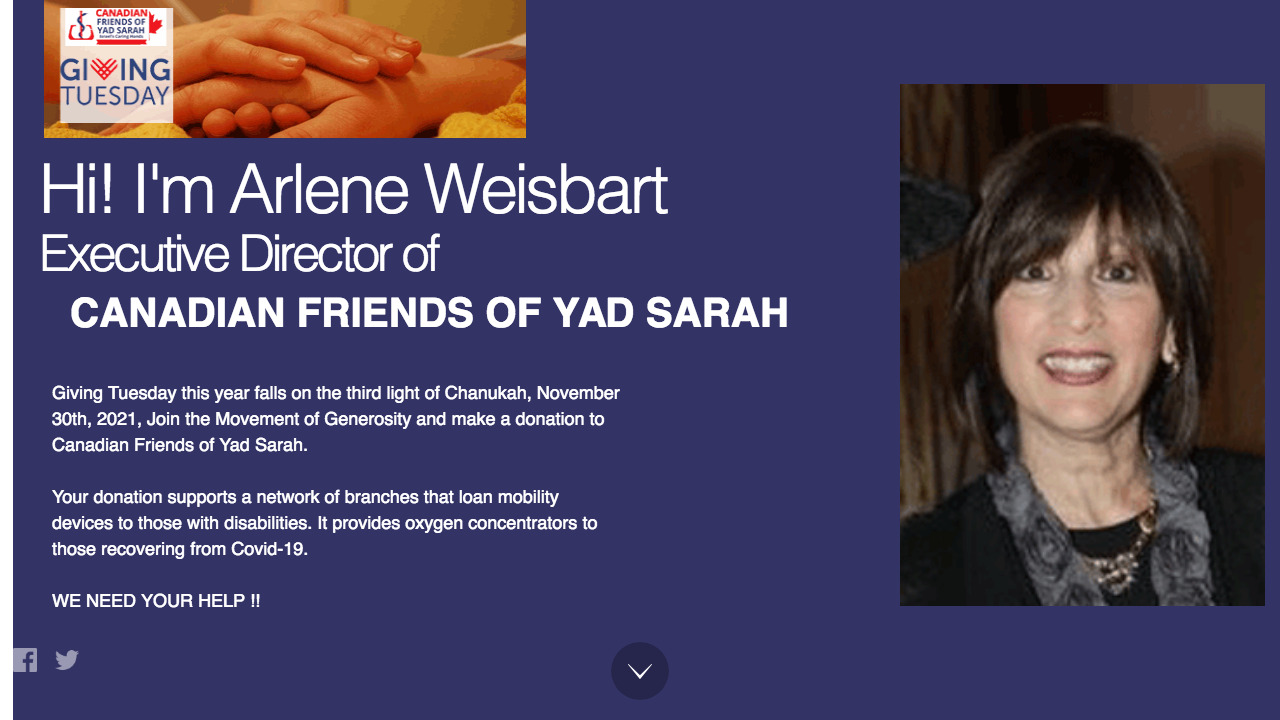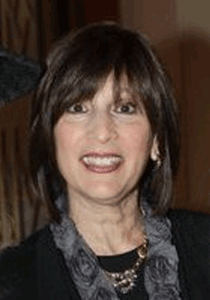 Executive Director of
Hi! I'm Arlene Weisbart
CANADIAN FRIENDS OF YAD SARAH
Giving Tuesday this year falls on the third light of Chanukah, November 30th, 2021, Join the Movement of Generosity and make a donation to Canadian Friends of Yad Sarah.

Yad Sarah and Tikkun Olam

Yad Sarah is guided by the principles of Tikkun Olam (social responsibility} for fixing what is wrong. Its values aligned with Judaism are tzedakah (charitable giving) and gemilut chasadim (acts of kindness).

On this #GivingTuesday, we ask you to join us in raising funds to build guest suites for families attending sick relatives. Yad Sarah House sits diagonally opposite the Shaare Zedek Hospital in Jerusalem. Families from a distance attend this hospital because it offers advanced services in most specialties. Travel to and from the hospital puts added pressure on the family and many cannot travel on the Sabbath. These self-contained apartments are in high demand.

WE NEED YOUR HELP !!


Scroll Down
COUNTDOWN TO #GivingTuesdayCA
Our GivingTuesday Project
To Fund the Addition of a Guest Apartment for Families Whose Loved One is in Shaare Zedek Hospital, Jerusalem
Imagine your relative, your child suddenly fell sick and needed special care at a downtown Toronto hospital? But you live in London, Ontario or Sudbury. You are not only dealing with the stress of the illness but the doctors tell you your relative will be in hospital for a while. Where are you going to stay in order to be near to your relative?
Now imagine that this is happening in Israel where not everyone has private transportation. Not everyone has the funds to travel back and forth or stay in a hotel. And many religiously observant will not travel on the Sabbath.
The Shaare Zedek Hospital is world-renowned and sees approximately 700,000 patients a year. One of its campuses is situated just down the street from Yad Sarah House. Responding to the needs of people to be near their relatives in hospital, Yad Sarah created 6 family rooms equipped with private washrooms/showers. Before they finished these units, the demand increased and a second phase of guest rooms was in the plans. Currently there are 25 family rooms, which are full every weekend. On the Eve of Rosh HaShanah, there was a waiting list of 42, hoping there would be a cancellation for some of them.
It became evident that more family rooms would be necessary and we are embarking on adding an additional 11 fully furnished units with en suite bathroom facilities.
The placement of the additional wing enabled us to save significant infrastructure costs (electric, water, drainage, etc.) totalling $72,000 US per unit which represents a saving of up to twice the amount of the earlier units. Additionally, Yad Sarah has secured commitments for 50% sponsorship of the cost of each unit (from donors who are not requesting naming rights); this means that we only need to raise the balance of $36,000US per unit. Naming rights for the new wing of 11 units is available for $360,000US as well.
Our goal in Canada is to raise the funds for one unit or $36,000US ($45,217.26) on #GivingTuesday. Please give what you can. Take an #Unselfie with a sign saying I gave to #YadSarah #GivingTuesday and post it to your social media. Challenge your friends to do the same thing. Together, WE CAN DO IT!